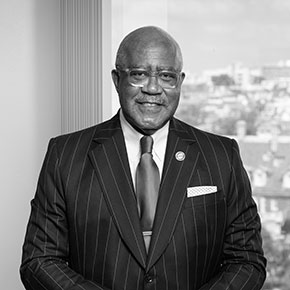 Walter G. Bumphus, Ph.D.
Dr. Walter G. Bumphus currently serves as president and CEO of the American Association of Community Colleges (AACC). The association represents more than 1,000 two-year, associate degree–granting institutions and more than 12 million students.
Prior to assuming the presidency of AACC, Dr. Bumphus served as a professor in the Community College Leadership Program and as chair of the Department of Educational Administration at the University of Texas at Austin. Before serving at the University of Texas at Austin, he was president of the Louisiana Community and Technical College System (LCTCS). During his tenure, the LCTCS governed 40 campuses across Louisiana serving 51,000 students.
Dr. Bumphus served as chancellor of Baton Rouge Community College (BRCC). Prior to joining BRCC, he worked in the corporate world serving as president of the Higher Education Division of Voyager Expanded Learning. His administrative career began as director of minority affairs and dormitory director at Murray State University. Dr. Bumphus was appointed dean of students on the first leadership team to open East Arkansas Community College. His career also includes serving 13 years as vice president and dean of students at Howard Community College in Columbia, Maryland.
Dr. Bumphus holds a bachelor's degree in speech communications and a master's degree in guidance and counseling from Murray State University, and a doctorate in higher education administration from the Community College Leadership Program at the University of Texas at Austin.
He has the distinction of having worked collaboratively with two presidential administrations. He was appointed to the U.S. Department of Homeland Security's Academic Advisory Council, the 100,000 Strong Initiative, and the White House Initiative on Educational Excellence for African Americans under President Obama. He was selected to serve on the Task Force on Apprenticeship Expansion under President Trump. Currently, he serves on the 25-member American Workforce Policy Advisory Board.